by Renata Smith, MPH

Exposure to media and advertising has been
linked to consumption of low-nutrient foods
in children. The bulk of food advertising is for high-calorie, low-nutrient foods, such as sugary cereals, fast foods, candy, and soda. Traditional methods of advertising include television commercials, popular character licensing, and
athlete endorsements
. As technology advances, "new media" advertising on social media, mobile devices, and the Internet has also evolved. If you use Facebook, you may have noticed "sponsored posts" that now show up in your newsfeed (as a runner, I see targeted ads from race organizers, gear companies, etc., for example).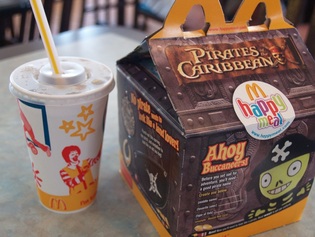 Targeting media savvy kids

While TV commercials has been the dominant method of food advertising, in 2012 the Federal Trade Commission reported a
50% increase ($46M) in marketing
expenditures for "new media," which includes websites, social media, and mobile devices. Of the top 10 websites visited by children,
70% market candy, cereal, and other low-nutrient/high calorie foods
.
Four major websites
visited by children – including Nick.com and CartoonNetwork – account for 83% of all Internet food ads seen by children. Company websites also host advergames for kids: branded online video games that engage children for extended periods of time to promote a product. For example, McDonald's uses smiling cartoon images of their Happy Meals characters to entice kids on to their "Games" site, where children can pick from numerous games, e-books, or videos to watch for hours. In 2009,
1.2 million children
aged 6-11 years visited food company sponsored advergame websites each month. Food companies are also utilizing mobile apps to reach children, especially teens and pre-teens. As I mentioned in a
prior post
, however, even children as young as 4 are using mobile apps on their parents' phones, suggesting that our kids may be well-primed before they even reach kindergarten.
Opportunities to increase healthy behaviors via advergames

While many companies are using advergames to market high-density foods, why not also leverage their potential to promote healthy food? A
study by JL Harris
found that children who played advergames with healthy foods consumed 50% more healthy fruit or vegetables compared to children who played advergames that promoted unhealthy foods. At the time of their study in 2011, only 3% of all advergames included information about nutrition and health. There could be significant untapped opportunity here to increase children's healthy food consumption. However, increasing healthy food in a child's diet does not necessarily displace unhealthy food. If advergames are developed to promote healthy food, therefore, we must simultaneously try to suppress the amount of time children spend playing "unhealthy" advergames. Despite the huge sum of money spent on advergames, parents can stem the tide of food marketing by monitoring their young children's Internet time and directing children away from unhealthy food advergames.