by Renata Smith, MPH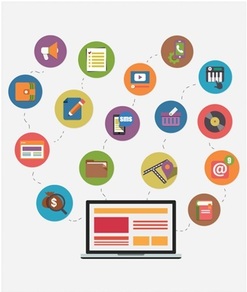 What are expert recommendations for pediatric obesity prevention and do apps follow them?

The American Academy of Pediatrics recommends the following behaviors and strategies for obesity prevention:
· Limit consumption of sugar-sweetened beverages (SSBs)
· No more than 2 hours of screen time per day
· Eat breakfast daily
· Family meals
· Limit fast food and eating out
· Limit portion sizes
· Get 1 hour of physical activity per day
· Eat a diet rich in calcium
· Eat a diet high in fiber
· Limit consumption of energy-dense food

Strategies for changing behavior:
· Goal setting
· Positive reinforcement
· Self-monitoring

On September 6, 2012 there were 237 apps related to children's fitness, exercise, or nutrition available for download in the iTunes App Store. Apps ranged in price from $0.00 to $9.99, with more than half available for free. Features ranged from tracking daily food intake and activity to movement-powered apps, to games that promoted fruits and vegetables. Age ranges for apps were not specified. Some were directed at parents while others were aimed at the children themselves.
At most, 21% of apps used an expert-recommended strategy, such as goal setting or self-monitoring, to achieve a recommended behavior. While 93.5% of apps did address recommended behaviors such as physical activity and nutrition, few (1.6%) addressed limiting screen time – not shocking, given the app is displayed on a screen! Apps typically did not promote drinking less sugary drinks.
Many apps used "stealth" interventions, where the target outcome or behavior is a side effect of participation. For instance, a game where children are motivated to actively play for fun increases physical activity without the child realizing she is burning calories and improving her health.
Stealth interventions have been suggested as alternative methods to achieve pediatric obesity prevention and treatment
, and these apps are a good start. App developers would do well to continue using this strategy, as well as incorporating self-monitoring, goal setting, and positive reinforcement, to improve children's health.
Overall, these apps may do some good. But, app developers might be more successful in influencing children by collaborating with researchers when developing apps, including underrepresented recommended behaviors and strategies, and incorporating multiple behaviors within an app for behavior change.