by Chrissy Horan, MPH

You can probably count on one hand the number of people you know who do not text. And the younger you are, the more common texting is among your peers. Specifically
among teenagers, texting is popular
with 12-17 year olds sending more than 5 times the number of texts per day as adults. In a
prior post
, Renata Smith already discussed the rising use of text messaging for weight loss and the state of the literature.
We learned in
focus groups with parents
that they were more likely to read messages because they were brief, immediate and "hard to ignore". Just think about how many unread text messages are on your phone versus unread emails in your inbox.
In addition to its rising use to encourage weight loss, text messaging has become an important way to share all sorts of health information. Studies have used text messaging to influence
smoking cessation
,
asthma management
,
sunscreen application
,
heart failure self-management
,
prenatal care
and
medication adherence
.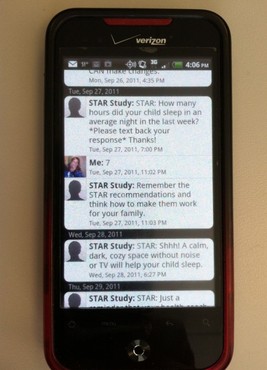 Between October 2001 and July 2013, we implemented a
behavioral intervention to manage pediatric obesity
that included text messaging as one intervention component. The text messaging intervention included 2 texts per week: an educational message focused on a target study behavior (e.g., sugary drinks, physical activity) and a self monitoring message, asking the parent to answer a short question about their child's health behaviors. Upon receiving the parent's response, our text messaging system sent an immediate message back to the parent. Our response message recognized how close the parent's response was to the behavioral goal (e.g., less than 2 hours of screen time daily) and, after their first response, to the parent's previous responses (e.g., better, worse or stayed the same).
We believe that a strength of our text message intervention was the self-monitoring messages. Of those who agreed to receive text messages (87% of those in the intervention arm), half responded to 100% of the self monitoring questions and 78% responded to at least 50% of them (Price, et al, Journal of Health Communications, in press). Messages were sent for 9 months. We thought this was particularly impressive. As a public health professional who understands the benefits of self-monitoring, I have never been able to keep a food or activity log for longer than 5 days!
Whether or not text messaging alone can lead to behavior change is not certain, however, it does appear to be an effective method to engage users in health interventions and an acceptable way to communicate health information.
We just need to get used to saying it all in 160 characters or less.
About the Author

Chrissy Horan is a project manager in the Division of General Academic Pediatrics at MassGeneral Hospital for Children (MGHfC) where she currently manages a large randomized controlled trial seeking to improve pediatric obesity management. Before working at MGHfC, she worked for 4.5 years with the OPP at Harvard Pilgrim Health Care Institute, primarily managing pediatric behavioral intervention studies.