Jen Thompson, MPH

You may have noticed that our department recently changed its name. After much debate and brainstorming, we decided to retire our old name, "Obesity Prevention Program", and call ourselves the Division of Chronic Disease Research Across the Lifespan (CoRAL). But what prompted us to make the change?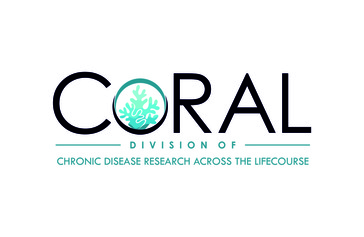 One obvious problem with calling ourselves the "Obesity Prevention Program", or "OPP", is that "OPP" is also the title of a well-known and somewhat risqué song from the 1990s. If you haven't heard it, it's the first result of a google search for "OPP." "Obesity prevention" could also be misinterpreted – we sometimes had to explain that we didn't promote any specific diet or weight-loss strategy. And it didn't convey our core mission as an institution, which is to conduct and report rigorous academic research studies.
Similarly, we felt that "obesity prevention" described only some of our work. We conduct studies of risk for overweight and obesity and interventions to help individuals lose weight. But, we also explore a wide range of other chronic health conditions. Our recent publications list includes:
After reviewing the scope of our research, we decided that "chronic disease research" was a better fit for us than "obesity prevention." Adding "across the lifespan" was also important, as many of our studies look at the earliest influences – such as a pregnant woman's
diet
,
weight gain
, or
fish consumption
– that may affect the later health of both mother and her child. It also conveys the longitudinal nature of much of our work; we have been following the participants of our flagship study,
Project Viva
long enough for the enrollees to start applying for driver's licenses.
Besides making an attractive logo, we liked the symbolism of our new acronym, "CoRAL." Actual coral consists of many tiny organisms that work together in colonies. In the right environment, coral grows over time, building upon itself to build a new, larger structure. We pride ourselves on our multidisciplinary, collaborative environment that encourages innovative research and supports young researchers. Under our new name, we hope to grow for many years to come. And, as a added bonus, people will no longer start singing when we say our name.
We thank the
Dana-Farber/Harvard Cancer Center Health Communications Core
for their hard work in helping us choose our new name.