Jason Block, MD, MPH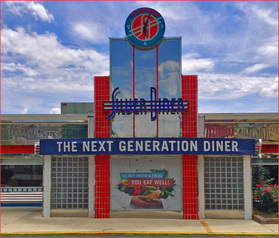 Silver Diner
, a full-service restaurant chain in the Washington, DC, metro area, did just that. They expanded the percentage of "healthy" kid's entrees from 22% to 59% of all offerings. They defined "healthy" according to criteria established by
Kids Live Well, an industry-led voluntary initiative
to encourage restaurants to offer more options low in calories, fat, sugar, and salt. They also dropped fountain drinks as an option on the kid's menu, leaving only 100% juice or milk available. Strawberries, mixed vegetables or salad replaced fries and home fries as the default side item options. Kids could still request fountain drinks or fries as a substitute, at no additional charge, but they had to ask for those items.

What happened?
Researchers from Tufts University and
ChildObesity180
found that the percentage of "healthy" kid's entrees sold rose from
a meager 3% before the changes to 46% after
. While 57% of kids chose fries before the menu changes, 22% did after. Those choosing strawberries rose from 29% to 63%, while the proportion of kids choosing salads and mixed vegetables rose just over 1%. Consumption of fountain drinks dropped 5%, accompanied by slight increases in milk and 100% juice. A
follow-up study with data for 2 years
after the default changes demonstrated persistent improvements in the diet quality of meals purchased. Disappointingly, the overall average calories from meals didn't change, but meals with the new defaults for their sides contained about 60 fewer calories than before the menu changes.
Another
similar study conducted in a Mexican fast-food restaurant
in the Seattle area found complementary results. This chain changed the default side on their kid's menu from a high-calorie fried potato dish ("Mexi-Fries") to a menu of options that included 2 lower calorie items (beans or rice); they also added applesauce as a dessert option instead of only offering a default high-calorie desert (a fried and sugar-coated tortilla strip). Researchers followed sales immediately after the menu changed and then later, when the healthy changes were highlighted and promoted by the restaurant. Sales of the high-calorie desert decreased right after applesauce was included as an option, but the Mexi-Fries held fast until the alternate and lower-calorie sides were promoted as an option. The changes weren't dramatic (around 1% decline in sales for the higher-calorie items per month), but it was slow and steady over the 23-month study.
Calorie labeling might work this way as well. After King County (Seattle), Washington, implemented a local law that required chain restaurants to label calories on their menus,
calories in entrees on menus before and after the labeling implementation
fell an average of 73 calories for full-service restaurants and 19 calories for fast-food restaurants. This means that restaurants likely reformulated these products to be lower-calorie (or made them smaller into portions) after the law went into effect.
This is not to say that some people won't respond to dietary information in the form of labels or any other health education. However, if restaurants make it easier for people, they may decrease calories without even thinking about it. Customers can still choose the higher-calorie item if they want, but they have to make an active choice to do so.
Here's hoping that restaurants do more of this, spending their time and energy reformulating items so that they retain their taste but at slightly lower calories. By default.