Karen Switkowski, MPH, PhD

Most parents, nutritionists and educators will agree that it's not easy to get kids to eat fruits and vegetables, especially in school.
In this earlier blog post
, Dr. Jenn Woo explained the importance and effects of improved school meal standards, which have since been
changed again by the Trump administration
. It is well-established that providing nutritious, affordable school meals is important in controlling childhood obesity and there is broad support for this initiative from
physicians
, and former First Lady Michelle's Obama's
Let's Move campaign
. However, the best way to implement improved standards is controversial. There's also the important question, raised in Dr. Woo's post, of whether kids will actually eat these healthier meals and learn to appreciate fresh, nutritious food.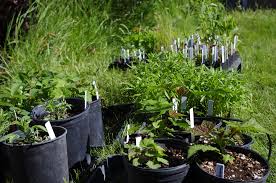 Rather than a "top-down" approach which forces healthy foods upon resistant children, it might be more effective to motivate kids to
want to
eat healthier foods. One approach is to implement programs that help kids feel more connected to the food cycle and that encourage awareness of what they are eating and how it affects their bodies and health. Local programs such as
CitySprouts
and
Groundwork Somerville's Schoolyard Gardens
aim to increase kids' awareness of where food comes from and to get them personally involved in growing and preparing food. Instead of being handed a nondescript, overcooked vegetable on a tray at lunch time, kids help to plant, maintain, and harvest gardens in their schools, while learning science, math, engineering, and nutrition along the way. School gardens also provide an opportunity for kids to spend time outside, be physically active during the school day, build social skills by working together, and establish a connection to nature and their community.
This all sounds great, but is it actually effective in improving nutrition and general health among school children?
A review
of 13 studies examining the impact of school garden programs on dietary behaviors of children in grades K-8 found evidence for increased intake of and preference for vegetables following implementation of the garden programs. The garden programs also resulted in increased willingness to taste fruits and/or vegetables and improved identification of the different fruits and vegetables. Finally, children felt more confident in their ability to cook and prepare fruits and vegetables after participating in a school garden program.
Another study
investigated the impact of a school garden intervention in low-income elementary schools in New York on physical activity. The investigators found that children attending schools receiving the garden intervention had a larger decrease in sedentary activity and a greater increase in moderate-to-vigorous physical activity during the follow-up period compared to children attending a control school. The kids in the intervention schools were also more active during lessons based outdoors in a garden vs. indoors in a classroom.
My own sample size of 1 has also revealed great success with this approach. Last summer, my son had little interest in eating cherry tomatoes that appeared on his plate from a store-bought package. However, we also grew our own tomato plants, and once the tomatoes appeared he ran excitedly to the back door every morning to check for tomatoes that had turned from green to red or yellow and begged to pick and eat them!
Given that schools have had limited success in actually getting kids to eat healthier foods, a major factor cited by critics of the improved school nutrition standards, it might be time for wider implementation of approaches that focus on getting kids more personally invested in food and nutrition. School gardens are one such approach that has already shown success in many different settings and has added benefits to children's health.