by Amy Louer, EdM

I recently bought a hand-sewn bridesmaids dress online, created to my specifications to fit my body. Yet, like many aspects of a wedding, reality did not meet expectations. In fact, it ended with my bust, waist and hip measurements posted online for the world to see….but that's a different post for a very different blog. I was sent three sets of instructions for obtaining the same body measurements. One told me to measure my waist circumference at my belly button, another identified my waist as the smallest portion of my torso, while the third indicated that waist measurements should be taken at the top of my hipbone. I don't know about you, but my belly button is not located on my hipbones, nor is that the smallest part of my torso.

Considering that the company was providing very different instructions for measuring the same thing, I should NOT have been surprised when my dress came back 6 inches too short and two sizes too big. Two hundred dollars in alterations (and a visit to the Better Business Bureau) later, I was left wondering, if differences in measurement instructions can affect my apparel this dramatically, what is it doing to the quality of our research?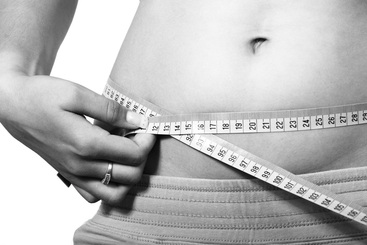 In public health research, we often critique the methods; less often do we question the actual data. Yet data quality can impact every aspect of analysis. Much of the data used in studies of nutrition or weight is susceptible to human error. Studies commonly rely on at least some form of manual anthropometry – literally, measurements of the body – in their data collection, even if it is a relatively simple height measurement. Most inaccuracies in anthropometric data collection are a
result of observer error
. A
Project Viva study
led by
Sheryl Rifas-Shiman
showed that clinical measurements of toddler length were systematically overestimated by an average of 1.3 cm. While this error may seem minimal, it could result in extensive misclassification of weight status, and lead researchers to inappropriate conclusions about their data.
In research, especially longitudinal research, where individuals are assessed at several points in time, it is essential that protocols are standardized so that a participant's waist isn't measured at her belly button one day and at her bra-line the next. At
Project Viva
, a longitudinal pre-birth cohort study, we have collected anthropometry measurements from mothers and children for over 17 years. In order to maintain high quality data collection in the face of a changing study team, we have developed a stringent, yet easy-to-follow protocol for obtaining anthropometry measurements. With this protocol and attention to quality control procedures, our research team has, and will continue to,
produced high-quality, reproducible results
. Most recently, with the help of an
online video journal
, we have published our protocol, quality control, and training procedures for the purposes of improved data collection and pooling of results. We have put in the ground work, so other studies don't have to.
This post is a call for everyone doing similar research to use standardized methods that can withstand the test of time. Or they could just use
our procedures
, so that we are all on the same page about where our waists are. Please don't let your research turn out as imperfect as my bridesmaids dress.