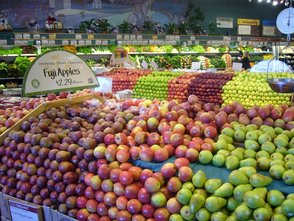 In this study we examined 498 children participating in the
Study of Technology to Accelerate Research (STAR),
which was a randomized controlled trial to treat child obesity in Eastern Massachusetts. The intervention included computerized clinician decision support – which notified primary care physicians when a patient's BMI exceeded the 95th percentile, and suggested resources for the physician and the patient's family -- plus a family self-guided behavior change intervention, or a health coach intervention, which included text messages to the family to promote behavior change. We found that children in the intervention who lived closer to supermarkets were able to increase their fruit and vegetable intake and decrease their BMI z-score more during the intervention period than those children living farther from supermarkets.
As clinicians, we make suggestions for healthy dietary behaviors and we must keep in mind the neighborhoods in which families live and the time and financial constraints they are facing. Policymakers and community leaders, as well as clinicians and researchers, need to be involved in creative ways to improve all families' access to healthy foods, with incentives for building supermarkets in low-income neighborhoods and lowering costs of fruit and vegetables.