Working on
Project Viva
for the past few years, I've had the pleasure of meeting and completing study visits with dozens of moms and their children. In addition to collecting in-person physical measurements like height, weight and waist circumference, we also administer questionnaires to our participants to capture their behaviors outside of the visit room. One of the most common questions our teen participants ask about their questionnaires -- aside from "What's margarine?" -- is how to respond to the question "How often do you have gym class?". Most of our participants attend gym for only a semester of the school year, and even during that semester, may not have gym class every day. Which got me wondering:
how physically active (or inactive) are American teenagers, and what is the future of physical education in the United States?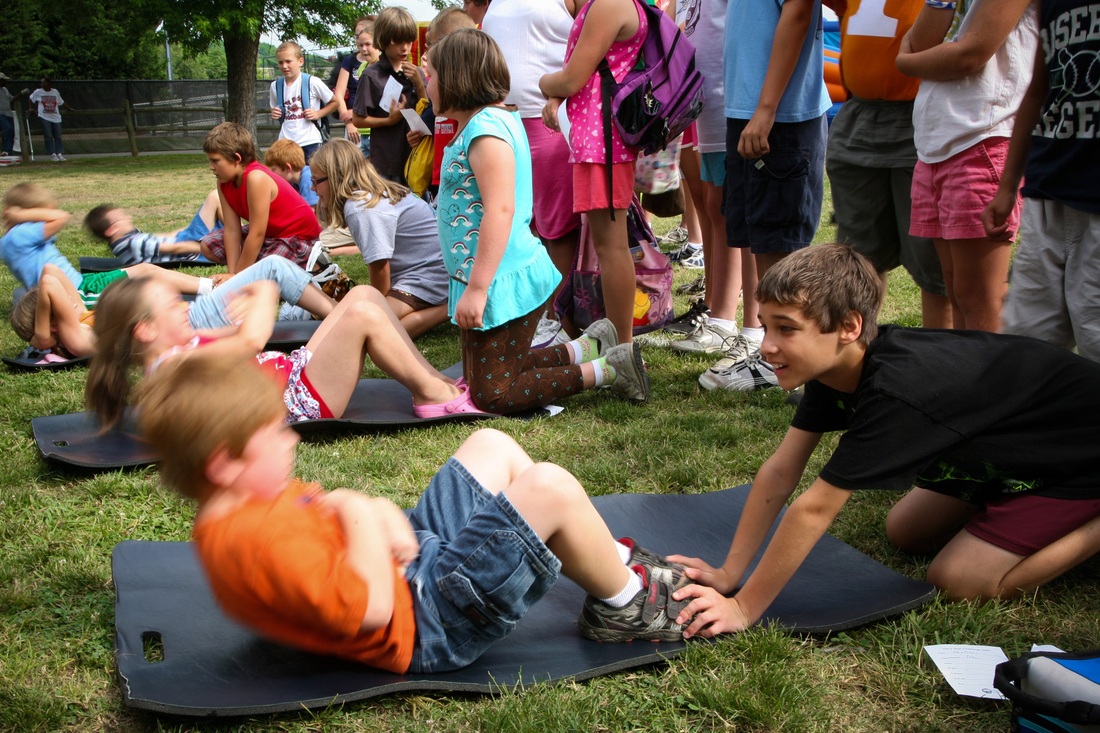 According to data from the 2012 National Health and Nutrition Examination Survey (NHANES) and the National Youth Fitness Survey,
less than a quarter
of adolescents aged 12 to 15 years old meet the daily-recommended level of moderate or vigorous physical activity.
That recommendation,
for 60 minutes or more of physical activity
a day for children and adolescents ages 6 to 17, comes from the US Department of Health and Human Services and is based on an extensive scientific examination of the effects of physical activity on health. Given the prevalence of childhood and adolescent obesity in our country, it is not particularly surprising that so many American teenagers fall short of daily physical activity recommendations. To really illustrate the problem, however, we can compare how few adolescents participate in an hour of physical activity a day – 24.8 percent – with how many watch TV daily –
98.5 percent.
Twenty-five years ago, adolescents had a
better chance
of getting their recommended amount of physical activity during the school day than they do today. Project Viva participants who live in Massachusetts are actually at a physical education advantage; Massachusetts is one of only six states that requires gym classes to be offered at every grade level, K-12. Tellingly, a nationally representative survey showed that in 2013,
less than half of high school students
attended physical education classes
in a given week.
The decline in physical education accessibility has been partially attributed to the increased pressure states feel to raise standardized testing scores, a mission deemed imperative by the No Child Left Behind (NCLB) Act of 2001. Ironically,
increases in physical activity in children are associated with
positive academic and cognitive outcomes
, in addition to cardiovascular and metabolic health benefits.
With the ink drying on Congress' recent re-write of NCLB, perhaps a new era of physical education is in sight. Under the rewritten act, physical education will become a "
well-rounded education subject
", or what the previous act deemed a "core subject"
.
These well-rounded subjects will be eligible for the same federal funding as their core subject predecessors. Considering that the median yearly physical education budget in our country is $764 per school, increasing funding opportunities may allow schools, especially those that educate underserved communities, to expand upon or introduce new physical education initiatives. Schools across the country are already offering
innovative
opportunities
to their students. While traditional gym activities that promote teamwork and friendly competition, like basketball and soccer, still have a place in physical education, there is also a push to develop curricula that are
suited for both
athletic and not-as-athletic (hand-raising here) students. Seeing as how
childhood physical activity has been shown to
predict levels of adult physical activity
, it is important for physical education in the United States to firstly exist and secondly, influence as many students as possible.