by John Paul Livingstone, BA

As a Research Assistant with
Project Viva
, a longitudinal birth cohort now in its 16th year, I traveled all over the country this summer to conduct study visits with participants who moved out of state. On more than one occasion, I found myself sitting in a hotel room because there was nowhere I could go easily on foot, something that I often take for granted living in
Boston
.
One hotel desk clerk even advised that I take a cab instead of walking to the closest pharmacy — which was less than a quarter mile away — due to concerns about crossing the street.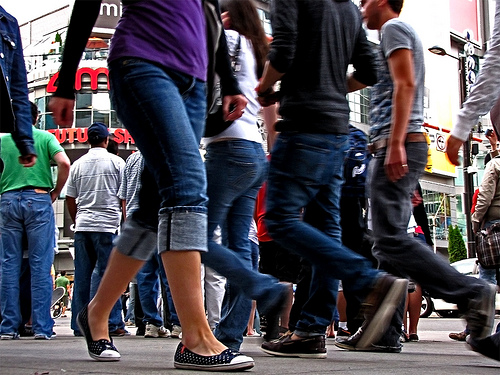 This year, the Office of the Surgeon General unveiled
Step It Up!
, a campaign to promote walking and walkability — a measure of how friendly an area is to walkers — as a means to combat chronic health conditions in the United States. The campaign seeks to engage a diverse range of community members to meet 5 goals:
make walking a national priority;
design communities that are safe and easy to walk for people of all ages and abilities;
promote programs and policies to support walking where people live, learn, work, and play;
provide information to encourage walking and improve walkability; and
fill the gaps in surveillance, research, and evaluation related to walking and walkability.
Intuitively, the campaign makes sense. Research has shown that
walking can modestly reduce blood pressure, blood glucose, cholesterol, and waist circumference
. However, it raises a few questions regarding community design.
Does the built environment really encourage individuals to walk more, or are the people who live in more walkable communities already more physically active?
Does changing the built environment effect the activity levels of current residents? How easy is it to change the built environment? Answering these questions could generate support for the Surgeon General's campaign as a concrete tool to combat a number of chronic health conditions.
One
study
in Canada looked at the relationship between the walkability of participants' communities—as determined by their
Walk Score®
—and their self-reported "walking with a purpose". They found that moving from an area of low to high walkability was associated with a greater increase in purposeful walking than moving from an area of high to low walkability. Also, increased cumulative exposure to highly walkable communities was associated with increased purposeful walking. This study was unique in that followed participants over time, included people who switched communities, and it considered how participants' health status could affect their walking behavior. Still, more complex study designs are needed to reduce potential self-selection biases.
Oklahoma City's mayor Mick Cornett rolled out a series of initiatives that
encouraged OKC residents to be more physically active by promoting public transit use and connecting schools, stores, and parks to the neighborhoods in which citizens live.
According to the mayor, these measures were economically profitable and even helped the city lose a collective 1 million pounds (view Cornett's Ted Talk
here
) although empirical assessments of the campaign's effectiveness are not currently available.
After looking at the Canadian study and the Oklahoma City campaign, it seems as though
Step It Up!
could
be a step in the right direction toward reducing the rates of chronic health conditions in the U.S.. We'll have to wait and see if it translates into more Americans incorporating more walking into their daily routines and whether that walking translates to health improvements.