What do Rob Gronkowski, Cindy Crawford, and newly crowned NBA champion Stephen Curry have in common? In addition to being famous celebrities, they are all part of
Team FNV (Fruits 'N' Veggies), a new marketing campaign sponsored by the Partnership for a Healthier America
. The campaign is seeking to market fruits and vegetables with the same tactics that companies use to advertise packaged foods.
It is recruiting influential actors, athletes, and other celebrities to endorse fruits and vegetables as a product, much like the shoes, makeup, and other goods they normally promote.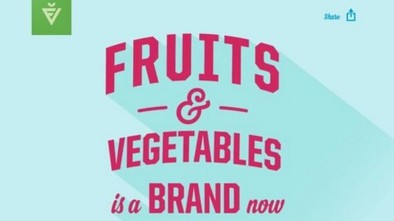 As I've
blogged about before
, the bulk of food advertising is for high-calorie, low-nutrient foods, and uses TV ads, celebrity endorsements, and now, social media to reach an audience. After years of the advertising and marketing industry pushing products, many of which are actually unhealthy (cigarettes, anyone?),
the world of public health is using marketing strategies to promote healthy, natural food and lifestyle choices.
The FNV campaign is promoting fruits and veggies as a brand - creating edgy and fun online and print
celebrity ads
, promoting a trendy FNV logo, starting a twitter account (
@TeamFNV
) and all the other numerous social media accounts (
Instagram
,
Facebook
,
Tumblr
, and
YouTube
), and even selling
branded t-shirts
online.
This is exciting, considering that billions of dollars are spent each year on advertising unhealthy food to kids. To think that children could be seeing ads for natural, low-calorie fruits and vegetables instead of the newest sugary cereal is a sign of the times and nod to the healthy living momentum created by campaigns such as
First Lady Michelle Obama's Let's Move
. An Associated Press article earlier this year stated the
FNV campaign has raised $5 million already
, with plans to continue the fundraising. Compared to the advertising dollars of packaged food companies, this is spare change, but it is a start. The campaign has a lot of celebrity influence and support, as well as the support of the Robert Wood Johnson Foundation and companies such as Bolthouse Farms and The Honest Company. Building on these relationships and spreading the fruits and veggies word via social media will help reach consumers, especially younger generations, who
report being likely to be influenced by celebrity endorsements
.
It reminds me of the saying, "If you can't beat 'em, join 'em."
In this case, a "healthy dose of advertising" may be just what America needs to make the healthy choice the cool choice.