DNA is at the base of all life: plants, bacteria, animals, and humans.
I personally have always been fascinated by genetics. As a teen, I would dive into books explaining fundamentals of genetics; as a medical student I did an elective in clinical genetics and strongly considered genetics as specialty (but stuck with my original passion for endocrinology). Yet, as a post-doctoral fellow, I wasn't sure if I wanted to invest my time in learning about the genetics of obesity and diabetes, since what I really want is to find better ways to prevent those conditions. But I got wrapped into population genetics and still love it.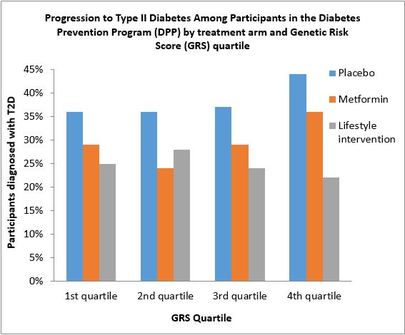 In recent years, the explosion of knowledge and technology in the field of genetics has allowed scientists around the world to investigate millions of genetic variants – most often one small change of
nucleotide
in the long sequence of our genetic code -- in thousands of individuals. International collaborations have formed to analyze data from multiple cohorts, and have now identified hundreds of genetic variants that are associated with risk of obesity and diabetes.
So, are we doomed by our genes? I don't think so.
We have learned fascinating biology about obesity and diabetes: we now know that the genetics of
body mass index (BMI)
are concentrated in genes implicated in central nervous system regulation, while the genetics of
waist-to-hip-ratio (WHR)
genetics point mainly at adipogenesis – the development of new fat cells -- and angiogenesis, the growth of new blood vessels. For type 2 diabetes, we confirmed the central role of β-cells, which produce and release insulin, and expanded our knowledge of genes implicated in
insulin secretion
,
such as the role of circadian rhythm genes in β-cell regulation
. Initially, many hoped that these investigations would identify genes that can predict who would develop diabetes, but our findings so far are unlikely to influence clinical decisions. For example, we have found multiple genetic variants associated with diabetes, and confirmed that people carrying more risk variants are more
likely to develop diabetes
than someone carrying fewer variants. But their cumulative effect on predicting who is going to develop diabetes is limited when we add genetic information to the usual clinical risk factors such as age, body mass index, and glycemia (blood sugar levels).
More importantly, we know that
modification of lifestyle leading to modest weight loss can prevent diabetes, even in people classified at high genetic risk.
In the Diabetes Prevention Program, participants were recruited if at high risk of diabetes based on excess weight and impaired glucose status. When we classified people according to 34 genetic risk variants for diabetes, participants at 'high genetic risk' that were randomized to the lifestyle intervention reduced their risk of diabetes to the same level than the participants at 'low genetic risk'. In other words, exercising more and changing their diet to lose just 7% of their initial weight offset their genetic background.
Everyone should feel empowered that they can prevent diabetes, no matter what's in their genes.