When we think about poverty and hunger, many of us immediately picture the tragic scenes from areas afflicted by famine –people too weak to walk with ribs that can be counted and children with the skinny limbs and swollen bellies characteristic of
kwashiorkor
. However,
in the US, and many other settings, the face of hunger is much more likely to have chubby cheeks
.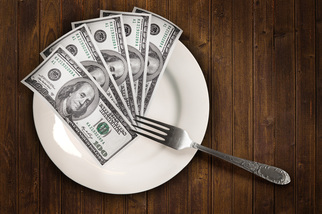 It turns out that a
large body of evidence
shows that living in poverty and not reliably having enough food ("food insecurity") is associated with a much higher risk for overweight and obesity. Even those who are homeless, often the poorest segment of society, are much more likely to be overweight than underweight. For example, in
a study of 5,632 homeless adults
receiving medical care from the Boston Health Care for the Homeless Program, about 1/3 were obese but only 1.6 % were underweight .
This relationship is by now so well described that it has its own name: the "hunger-obesity paradox."
Women of childbearing age and young children, the segment of the population for whom good nutrition is most essential, are most likely to be affected by the double whammy of poverty and obesity.
Among Boston-area homeless adults, obesity was about 50% more common among women than men.
I and others here in Harvard Pilgrim's
Obesity Prevention P
rogram
have done a lot of work to show the risks associated with
excess weight among pregnant mothers and young children
, as well as factors that underlie these risks.
In a recent study, we found that having experienced material hardship was associated with higher risks for excess weight prior to pregnancy and excess weight gain during pregnancy.
We were surprised, and more than a little dismayed to observe, that even material hardship during childhood – often decades before pregnancy – predicted excess weight gain during pregnancy.
As one expert wrote recently,
alleviating poverty may be the best
, if not the only, way to stop the obesity epidemic.