by Jason Block, MD, MPH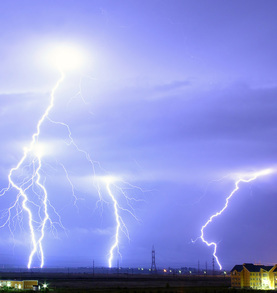 VBLOC is approved based on randomized controlled trial

In early 2015, the FDA approved the
Maestro Rechargeable System
, nicknamed VBLOC, for the treatment of obesity.
VBLOC is an implantable device that stimulates the intra-abdominal vagus nerve. The vagus nerve sends a signal to the stomach to move food into the intestine and to the brain that it's time to eat. By stimulating the vagus, the Maestro device blocks signaling, leading the brain to believe that the stomach is full and perhaps slowing gastric emptying. A surgeon
implants the electrical generator
in the chest wall and places leads around components of the vagus nerve just below the diaphragm.
Does it work?
The
first study of it
enrolled 294 patients, with 2/3 in the active treatment arm and 1/3 in a sham control arm. Sham participants had the generator and leads implanted but the device generated only minimal electrical impulses. After one year, weight loss was 17% of excess body weight in those actively treated and 16% in those in the control group. No statistical difference. Patients who used the device more (activation of the device required patients to wear an external controller) lost more weight.
A
more recent study
, this time with an updated device that provided 12 hours of stimulation without wearing an external controller, enrolled 239 patients. Again 2/3 received active treatment and 1/3 sham. This time, the sham control group did not have leads implanted but only a generator in the chest wall. At one year, those in the treatment arm lost 24% of excess body weight (9% of initial body weight) compared to 16% (6%) in the sham group. This was a significant difference though failed a pre-specified expected difference between treatment and control of 10%. Because of reasonable safety results (about 9% had a serious adverse events, with most of these related to the surgery itself), the
FDA still approved the device for people with a BMI of 40 to 45 kg/m2 or 35 to 39.9 with an obesity-related comorbidity
, such as diabetes, hypertension, or high cholesterol. The FDA also was reassured that the weight loss appeared to be maintained for the 18 months over which patients were followed.
FDA approves but does it make sense for patients?

Was this a good idea? The FDA closely weighed the failure of the device to meet its pre-specified endpoint as well as the safety of its use. They came down on the side of benefit. But, other considerations will be important as patients and physicians work together to determine if this treatment is reasonable. The
cost will be high, perhaps up to $20,000 to $30,000
, which could be even more than some bariatric surgical procedures. And, while the device has substantially fewer side effects than bariatric surgery, the effectiveness is also quite a bit less. Gastric bypass leads to
32% of baseline body weight lost at 1 year and 25% at 10 years
; gastric banding leads to 20% and 14%. Bariatric surgery also has been associated with a host of
health improvements
from a reduction in mortality to lower cardiovascular risk factors and diabetes. Over 1 year, VBLOC was not associated with any improvements in cholesterol, sugar, or blood pressure.
We also don't know long-term results from VBLOC.
Upon approval, the FDA required the manufacturer to conduct 5-year studies to assess long-term effectiveness and safety. Based on the 18 month data, the company
estimated that ½ of patients would have their device extracted
at 5 years, not a trivial amount. The expectation would be that many patients will regain any weight loss if they no longer have the device. If they want to keep the device active, eventually, all patients may have to undergo repeat surgeries to replace the device.
VBLOC
has its
advocates
, with many stating that it provides one more option for patients with obesity.
Like others
, I'm a skeptic that VBLOC serves much of a role, if any. Weight loss with VBLOC, when compared to control groups, appears to be less than phentermine/topiramate, liraglutide, and naltrexone/bupropion. And, we haven't yet seen any other benefits in metabolic or cardiovascular risk. Intensive lifestyle treatments achieve weight loss and metabolic benefits
that are better
, when compared to control groups. VBLOC seems less effective than alternatives yet is more costly and requires a surgery.
With all treatments for obesity, we are in desperate need of information about which patients benefit most from each treatment modality. With information like this, we might find a narrow subset of patients for whom VBLOC will be useful. We may even learn this with the 5 years trials that will be conducted.
I will encourage my patients to stick with other treatments until then.