by Avik Chatterjee, MD

When I first met him, Mr. Smith had just moved into a motel room re-purposed as a homeless shelter, with his four children. He was anxious and distracted, his eyes darting from me to the door, to the children's clothes folded up on the bed.

"This morning I had to get my kids to school, meet with my housing worker, figure out why MassHealth won't accept my application, and to top it all off, I know my blood pressure and blood sugar are out of control. Doc, I won't lie to you, life's been so difficult this past year, I haven't taken my medications at all."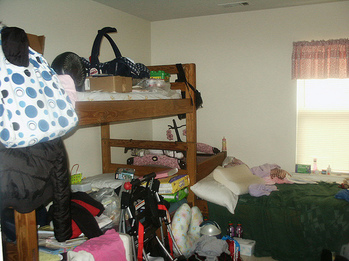 Mr. Smith, 350 pounds, with high blood pressure and diabetes, hadn't taken his medications in a year. I had seen patients like Mr. Smith in clinic before—patients with multiple medical problems who have fallen out of the health care system and need a lot of things at once.
But this visit was different. Seeing Mr. Smith where he lived made it clear that writing prescriptions for the metformin, statin, and anti-hypertensives, and offering some counseling on eating better and exercising more was not going to be enough. At the motel/shelter, I could see how his environment affected his health, including what he was eating. Next to the microwave and mini-fridge, which was to be the source of Mr. Smith's and his children's meals for an indeterminate amount of time, were three 24-packs of soda.
When I ask a patient what he or she eats or drinks, I'm not always sure how accurate their list is. But during a home visit, the truth is difficult to hide. We talked at length about the health effects of drinking soda, especially for a person with diabetes, and made a plan to reduce and eventually stop drinking soda, not just for Mr. Smith, but for his family (several of whom are also overweight, per Mr. Smith).
The family team at Boston Health Care for the Homeless Program has gone out to family shelters to provide care since the 1980's. Their consistency with using home visits is unique; the long-standing tradition of home visits in American medicine significantly decreased over the last several decades as pressure to see more and more patients in less time increased. But, the Health Care for the Homeless program may be on the cutting edge of a very recent trend - home visits are making a
comeback
. In an Australian
study
of patients with heart failure, home visits prevented unplanned hospitalizations and deaths while saving money.
When I came back to follow up with Mr. Smith a month later, the cases of soda were gone. He had picked up his medications, though he still wasn't taking them every day. We gave him a pillbox to make it easier to keep track. I also pointed out through his window the walking trail across the street from the motel, and we discussed ways for him to be more physically active. There's a lot of work to be done, but by visiting him where he lives, I've been able to work with Mr. Smith to identify and overcome barriers to good health that I would have been ignorant of otherwise.
While not an option for everyone, for certain patients with multiple health and social issues, home visits can be very effective. If a physician or other practitioner is too busy to go, a team of nurses, social workers, or other health professionals can be effective. New reimbursement policies that bundle/capitate payments (give a fixed amount of money for each patient that a health system takes care of), and even offer higher amount of reimbursement for home visits, may allow more effective care for patients like Mr. Smith. These visits may help us actually get the soda out of the kitchen rather than just talking about it.