by Matt Gillman, MD, SM

I've just returned from a week in South China. This trip was driven in part by the question of why China, along with India and other Asian countries, are hot spots for 21st century diabetes. By 2030, ½ billion people on the planet will have type 2 diabetes. The majority will be in Asia.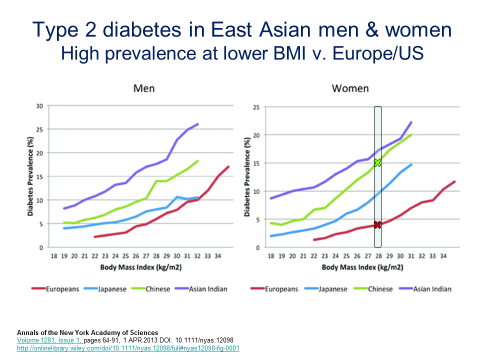 As in almost all regions of the world, obesity rates have been rising rapidly in South and East Asia over the past 3 decades. But in Asia, obesity (and higher weight in general) has a closer relationship with diabetes than in Western nations. Not only are diabetes rates higher than in the West at any level of BMI, but at least in women there's a steeper rise as BMI increases (Figure 1). At a BMI of 28 kg/m2, which is the cut point most use to define obesity in Asia (not 30 kg/m2, as in the West), diabetes prevalence is around 15% in Chinese women but less than 5% in women of European descent.
Obesity in women has particular significance.
In our own studies, and across the world, it is a strong risk factor for gestational diabetes (GDM). GDM is a harbinger not only for eventual type 2 diabetes in the mother, but also for obesity in her child. This is a vicious intergenerational cycle of
obesity and diabetes
.
We're observing this in real time in China. In the parts of China with the worst trends in obesity, GDM appears to be rising particularly rapidly (Figure 2). This observation raises the specter that GDM risk may rise even at lower BMI lowers in Asia v. the West, just as type 2 diabetes does. But we need the data to prove it, and that's just one of the reasons we are setting up collaborations with Chinese colleagues.

Ultimately we need to figure out how big a role mother's obesity coming into pregnancy—and GDM—play in the "diabesity" epidemic, and ultimately ways to assure that as many women as possible safely enter pregnancy at an ideal weight.