by Avik Chatterjee, MD

Tasha, a fifteen-year old girl I was seeing at our clinic at a family homeless shelter (formerly a motel), stared at the floor as I talked with her about her sore throat and stuffy nose. Toward the end of the conversation, I asked her if anyone had ever talked to her about her weight, which was at the 99th percentile for girls her age.

"Yes. My primary care doctor said I should eat healthier and go to the gym."

I looked around the stuffy, re-purposed motel room, currently being used as a meeting room, clinic, and storage room. The view from the window was of a large parking lot and cars whizzing by on the neighboring I-95. There was not a gym in sight.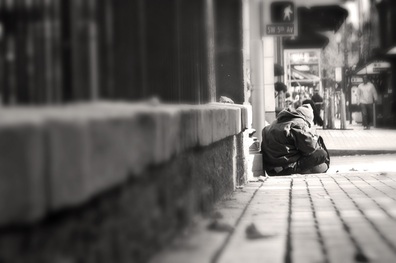 I asked Tasha about sports and school activities. She lifted her eyes to meet mine and spoke animatedly for the first time.
"I really wanted to play volleyball for my school, but the bus that takes me from school to the shelter only comes at one time and won't let us stay for after-school activities. But I do have physical education class and dance class at school."
I asked her about healthy eating.
"Well, we only have a small fridge and a microwave in our room, so we normally eat Chef Boyardee, or things you can heat up. At school I eat fruits and salad when I can."
Tasha's situation was overwhelming. But it is hardly unique. Health challenges presented by
poverty
, resulting from
food insecurity
, crime, a
built environment
that discourages physical activity, and many other factors are ubiquitous. Housing is another. As great a benefit as the motel housing was, it also created significant barriers to eating healthy foods and being physically active.
We need better research about people who are homeless, but barriers are significant
Knowing how homeless families like Tasha's make decisions about eating, given the constraints of homeless shelters and motels, would be very helpful. But there are significant barriers to conducting research in this population. For good reasons, there are
special protections
in place to prevent exploitation of vulnerable populations, such as the homeless, in research. Institutional Review Boards (IRBs) require additional paperwork and adherence to stricter standards, and often take more time to approve studies on homeless patients. Homeless children are particularly vulnerable, meaning research options are particularly limited.
The unintended consequence of these protections for me as a young researcher has been that I've been discouraged from doing primary data collection in homeless patients. I've been told that the turnaround time and scrutiny on an IRB application for let's say, conducting focus group discussions with homeless patients and families to understand better what they eat and why, would make such research impractical.
Others
have also found that IRB requirements create barriers to recruitment of vulnerable populations into studies where it is important that they participate.
As a consequence, I go through clinic, knowing there are underlying problems that are preventing my patients from eating healthful foods and being physically active. Yet, I am unable to address those problems on broader levels - shelter, city, or state - because I don't know clearly what they are.
I will continue to work with patients like Tasha one-on-one to help them eat better and be more physically active. But given the significant challenges that homeless families in Massachusetts face, we need to be able to talk with them and share their challenges and successes formally through research.
I envision an update to the IRB process for vulnerable populations that balances the need to protect them with the urgent need to do research into the problems they face. An expedited path through the IRB, under the guidance of experts who can balance these needs, is necessary. And the time for that change is now.