by Wei Perng, PhD

Pregnancy causes remarkable changes in a women's body. Hormones surge, and circulation and metabolism change. A growing body of research suggests that a woman's physiological response to the cardiovascular and metabolic demands of pregnancy may provide a looking glass into her future health. Researchers are becoming more and more convinced that pregnancy serves as a "stress test" that unmasks risk for cardiovascular disease (CVD) later in life.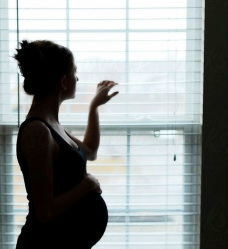 In an analysis of over
10,000 Finnish women who delivered in 1966
, elevated blood pressure during pregnancy predicted CVD and diabetes during 40 years of follow-up, with the highest risks among women who developed new hypertension during pregnancy. Similar findings have been reported for other common pregnancy complications, including
preeclampsia
,
gestational diabetes
, and
preterm delivery
. However, predicting further risk from new diagnoses in pregnancy is not enough. It also is critical to identify associations with markers of future disease risk.
A few studies have also looked into whether pregnancy complications are associated with markers of CVD risk. The findings are not conclusive. In a longitudinal pre-birth cohort in the UK,
women who delivered a preterm infant had 2 mmHg higher systolic blood pressure (SBP) 18 years after delivery than women who delivered at term
, but they were not different in terms of blood sugar levels, lipids, or weight status. On the other hand, delivering preterm predicted higher blood pressure, higher total cholesterol (198 vs. 186 mg/dL), and higher low-density lipoprotein (LDL; the "bad" cholesterol; 118 vs. 109 mg/dL) from 4 to12 years postpartum in a
cohort of women in Pittsburgh
. While these differences are small, they are not negligible and could have important implications for long-term cardiovascular health.
So, what does this all mean and what can be done?
Quite opportunely, pregnancy happens to be one of the times in a woman's life when she regularly interacts with health care providers and undergoes routine testing. And, any abnormalities are documented in prenatal care records. With continued research and improved understanding of how pregnancy complications relate to postpartum health, we can develop algorithms to identify at-risk women for preventive screening and lifestyle interventions. Of course, let's not forget the good old-fashioned importance of achieving a healthy weight prior to conception and moderating gestational weight gain to optimize pregnancy outcomes, as well as long term health of both the mother and child.