A colleague and I recently wrote a
JAMA commentary
that revisited the arguments in favor of menu labeling. People eat large calorie meals when dining at restaurants, and they often don't know how many calories they are consuming. Calorie labeling provides immediately accessible calorie information at the moment when customers are making decisions. Also, calorie labeling might prompt restaurants to reduce the calories in items, especially those with the most egregious calorie counts (check out
Dave's Hot and Juicy ¾ pounder
at Wendy's or the
12 inch Big Hot Pastrami
at Subway, both coming in at over 1000 calories, even before the sides are added on).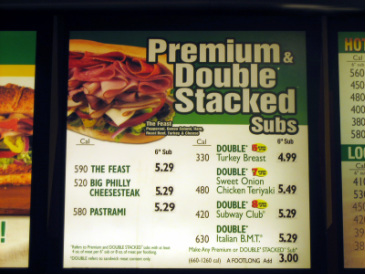 The passage of a federal law requiring calorie menu labeling in chain restaurants was a momentous public health policy development. The law was included as part of the 2010 Affordable Care Act and will require that all chain restaurants with 20 or more sites across the country post calories on their menus. The law passed only 4 years after chain restaurants fought tooth and nail to prevent New York City from implementing a similar law. After New York City prevailed in court and implemented the law, many cities and states followed, leading to a patchwork of laws that varied in their scope and requirements. Restaurants desired more uniformity, hence they supported a federal law that supersedes state and local laws.
We've now been waiting 4 long years for its implementation. The US Food and Drug Administration (FDA) released
preliminary regulations
on schedule in April 2011. But, since then, silence. No final regulations. Delays have resulted from myriad factors: controversies regarding whether
movie theatres
and
supermarkets
must comply; a presidential election that led to a halt in many regulations; and competing priorities that intervened, including FDA's proposed
revisions
to the nutrition facts panel on packaged foods. But, the time for the final regulations is near . . .
maybe
. After 3+ years of delay in the final regulations, one cannot be very confident.
Will calorie labeling work? The jury is still out. A recent
systematic review
concluded that menu labeling appears to work in some circumstances. Labeling seems to work best for women and diners who are presented with information putting meal calorie counts into context, such as when information about total daily calorie requirements also is presented. The best evidence may have to wait until we have long term data. Some of these studies are in process, including a study that we are doing in New England, which will evaluate the effect of menu labeling at McDonald's. Starting in 2013, McDonald's voluntary posted calorie labels on menus. We have data from 6 restaurant chains, collected annually from 2010 through 2014. Of those chains, only McDonald's posted calories on menus, giving us the opportunity to explore the effect of McDonald's labeling program.
More definitive results might have to wait until the federal law is finally implemented. The wait may soon be over.