by Karen Switkowski, MS, MPH

As a graduate student in nutrition with a particular interest in prenatal diet, I was confident that if I ever became pregnant I would follow a perfect diet. Then I got about six weeks into my first pregnancy. There was no way I was eating fish most days, and vegetables were a struggle. Instead, there were three things that I could reliably eat during my first trimester: pineapple, waffles, and peanut butter.
Pineapple is pretty non-controversial, and my doctor said it was perfectly fine to regularly make waffles for dinner (my husband disagreed). However, there seems to be a widespread perception that nut products should be avoided during pregnancy, or at least eaten in moderation. In 2000, the
American Academy of Pediatrics advised
that "no maternal dietary restrictions during pregnancy are necessary with the possible exception of excluding peanuts."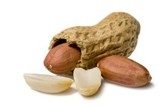 Although I couldn't recall coming across any current scientific evidence suggesting that eating lots of peanut butter would give my baby allergies, I started to worry that I was doing something wrong. Then
this article
was published using data from
Project Viva
, the study that I manage here in the Obesity Prevention Program.
Led by Supinda Bunyavanich, the investigators examined associations between first- and second-trimester consumption of common food allergens and the development of food allergies and asthma in their children, by age 8. They focused on food allergen exposure early in pregnancy since that is when many of the fetal cells involved in development of allergy and asthma are formed.
In this study, maternal consumption of peanuts, wheat, soy, milk and eggs during early pregnancy did not increase the child's future risk of allergies and asthma. In fact, eating more peanuts during the 1st trimester was associated with
reduced
odds having a peanut allergy. Drinking more milk during the first trimester was associated with a lower odds of developing asthma or allergic rhinitis. Eating more wheat during the second-trimester was associated with less childhood atopic dermatitis. There was no relationship between maternal egg and soy consumption and childhood allergy and asthma outcomes. These findings are in line with the results of recent systematic reviews on this topic, and with the revised 2008 American Academy of Pediatrics
policy
stating that "current evidence does not support a major role for maternal dietary restrictions during pregnancy or lactation."
One of the things that I love about working on Project Viva is that we have learned so many things that can be translated directly into clinical and public health practice. This study was a great example of this, and, in this case, something that helped me feel more personally connected to the work that we do here.